Fusion of VRxEEG for driver modeling 🚗 | October 2022.
Fusion of VRxEEG for driver modeling 🚗 | October 2022.
Oct 27, 2022 • 5 min read • Download article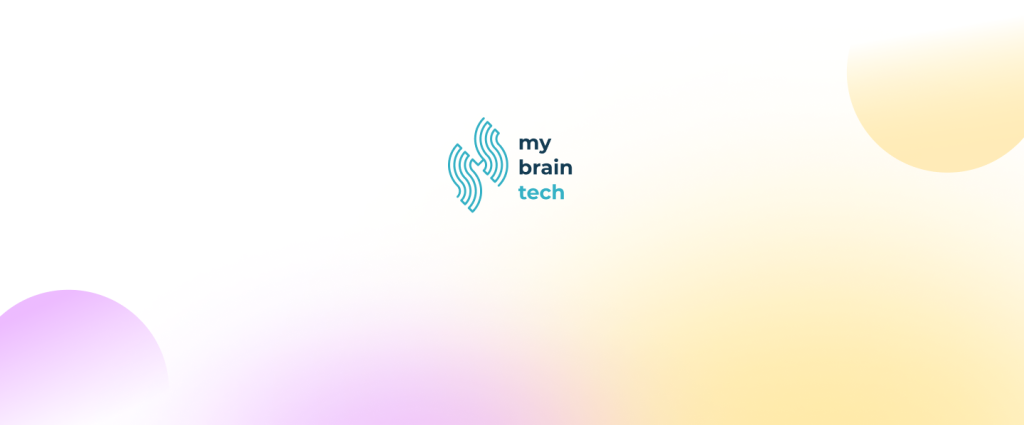 ---
---
---
---
To travel miles in full peace of mind, in a car that understands
and anticipates every need of the driver on the road, is
becoming a reality! 
 
With its SaaS neuromarker platform and its new VRxEEG headset, myBrain Technologies makes it possible to create
more robust AIs for cars that integrates human behavior by measuring and modeling drivers' mental states during their interactions with the vehicle.
 
We have more to tell you below 👇
Summary

Optimize the drivers' experience 🧠

Equip Auto 2022 🚗

VRxEEG: call for volunteers 📣
---
---
---
Build an AI based on "ground truth"
#Drivers'Experience 🧠

Understanding the brain is now a lever for optimizing performance and the driving experience. It can be a revealer of "ground truths" and address the challenge of vehicle safety. Our solution improves the automotive experience and ensures a better market
launch for the automotive and transportation industries.
Indeed, neuromarker analysis allows manufacturers to create and optimize alert systems based on "ground truth" brain measurements, such as stress, fatigue, alertness, concentration or comfort.
Integrating cognitive axes in already existant cockpit sensors means putting people at the center of technology.
Our comprehensive platform explores the
brain to decipher human cognition,
behavior and emotions, using multiple
artificial intelligences and neuroscience.
Its assets: powerful algorithms able to cross-reference car and brain data to anticipate shifts in human cognitive and emotional states.
"
WE WORK AT THE VERY CORE OF KEY THEMES THAT ENCOMPASS THE RELATIONSHIP BETWEEN HUMANS AND TECHNOLOGY IN THE COCKPIT OF THE FUTURE.
Brain data brings unique information for robust AI models and ensures validation and certification of these AIs. This modelisation makes it possible to predict user behaviors and experiences when interacting with the car, thanks to a concrete digital design that is less costly than physical experiments.
To better understand human interactions with the vehicle, is to ensure a safe and peaceful driving experience.
---
---
---
Equip Auto 2022
#AutomotiveExhibition 🚗
From October 18 to 22, the Equip Auto exhibition was held in Paris, a sister exhibition to the Mondial de l'Auto.
This was an opportunity for myBrain Technologies to present its new hybrid headset VRxEEG. A two-in-one helmet integrating electrodes to measure brain activity which, coupled with a virtual reality driving simulator, provides an immersive experience to analyze the mental states of drivers while driving and to create more robust AI models for (semi)autonomous vehicles.
Visitors to the exhibition were able to experience driving in sync with their brain at our stand and discover a demonstration commented by our teams.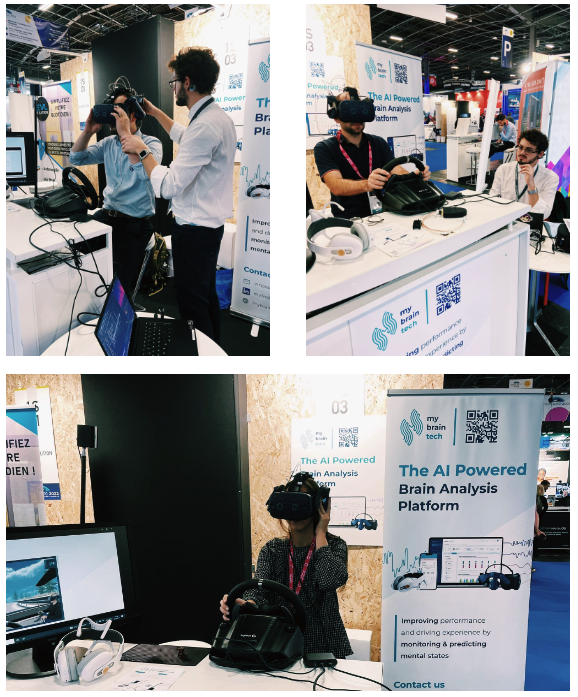 ---
---
---
#CallForVolunteers 📣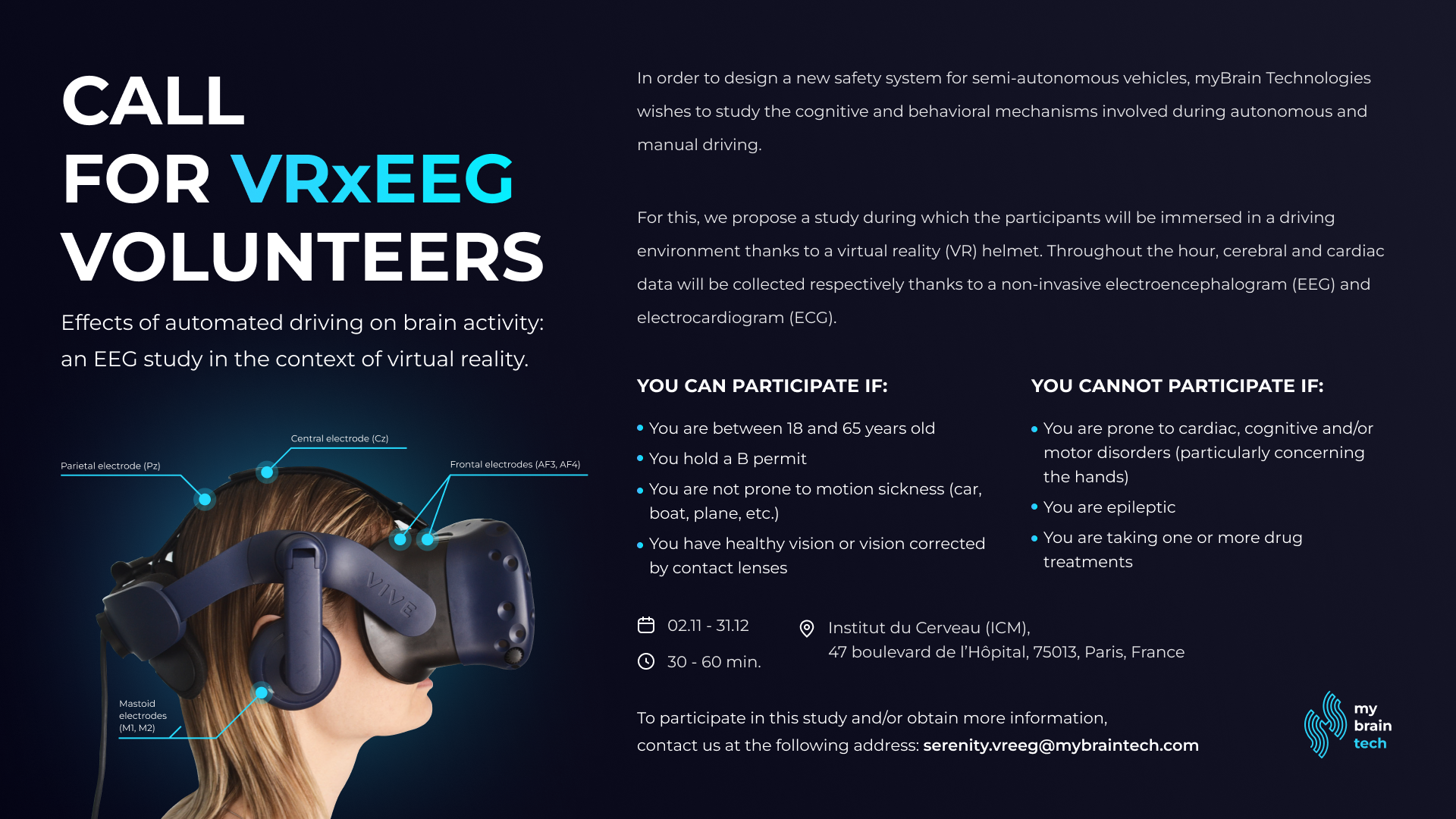 Starting November 2 in Paris, myBrain Technologies is beginning a series of experimental passations to determine what effects autonomous driving has on brain activity.
An EEG study during which participants will be immersed in a driving environment through a virtual reality headset.
For more info and/or to participate in the study, you can contact us at:
serenity.vreeg@mybraintech.com >>
---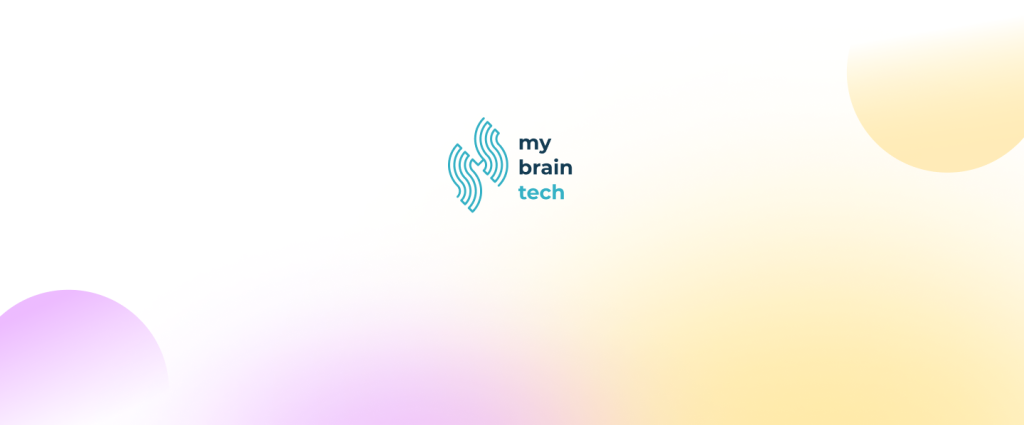 © 2022 myBrain Technologies, All rights reserved.
50 Avenue Claude Vellefaux
75010 Paris
We are glad you are interested in reaching out to us. Whether you have a question about our products or want to give us feedback, we are here to help.