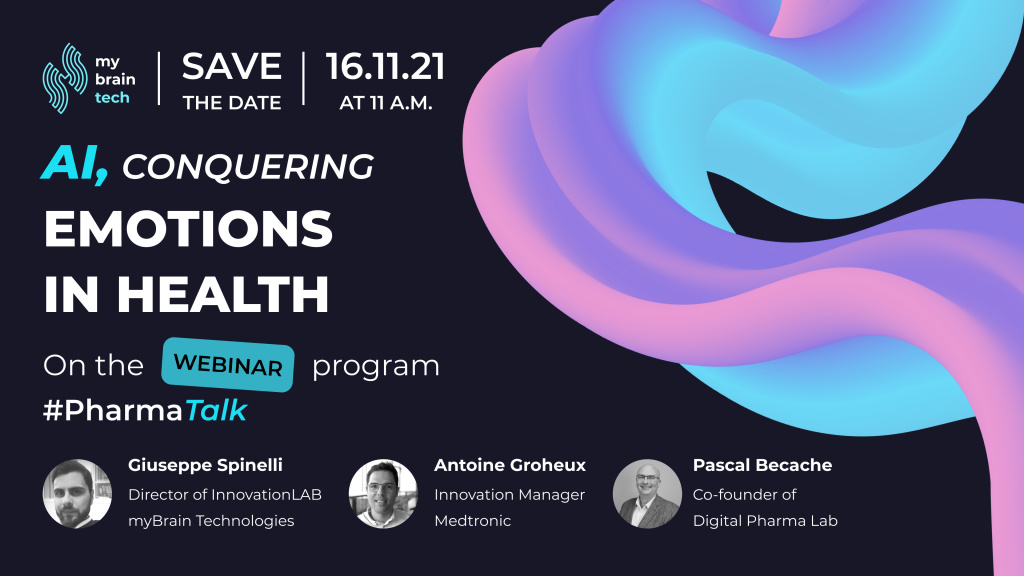 [SAVE THE DATE] – AI, conquering emotions in Health!
[SAVE THE DATE]
AI conquering emotions in Health!
Oct 28, 2021 • 5 min read • Download article

Vivian Panah-Izadi
Chargée de communication
– A French Event –
On Tuesday, November 16, 2021, at 11am, come and listen to Giuseppe Spinelli at the microphone of Pascal Becache on the occasion of the 4th Webinar #PharmaTalk of Digital Pharma Lab. Accompanied by Antoine Groheux, they will discuss about "AI, conquering emotions in Health!".
Subjective reports of patients' neurological and neuropsychiatric symptoms are only one facet of the modern clinical approach. The abundance of information provided by neurotechnologies, combined with artificial intelligence algorithms, promise to revolutionize the prevention, monitoring, diagnosis and personalized treatment of diseases of the central nervous system diseases.

Giuseppe Spinelli, Director of InnovationLab.
We are glad you are interested in reaching out to us. Whether you have a question about our products or want to give us feedback, we are here to help.